DBRT

: the Data Breach Response Toolkit

DBRT enables IT personnel to find and remediate advanced rootkits, Trojans, and other  malware. It is a scalable, enterprise-class solution.
Your Current Anti-Malware Protection isn't Enough
There are more than 68.3 million pieces of malware out there, according to a 2012 study by AV Test. The numbers have gone up since. All companies have some sort of antivirus protection in place, and that protection works very well — often stopping better than 99% of threats encountered. But with such a huge amount of malicious code around, infections and data breaches are inevitable. The less than 1% that manages to get through is the cause of just about ALL the data breaches reported by the media, and there are many, many more attacks going unreported because companies usually keep news of attacks very secret.
DBRT Can Find It – DBRT Can Kill It
Automated anti-malware solutions detect hostile code by comparing snapshots of systems and looking for changes, or comparing suspicious code snippets against a register of known malware profiles. Advanced malware is designed to elude these sorts of detection systems. DBRT is different. It provides a set of tools that enable IT analysts to find and remediate the most sophisticated threats. Using a technology we developed called Relational Code Intelligence, an IT analyst using DBRT can examine how snippets of code interact, and then flag relationships that are suspicious. With flexible configurations and the ability to work both onsite and remotely, DBRT can clean up and protect an entire enterprise quickly and completely.
How DBRT Works
DRBT has three software components: Agents, the Server and the Viewer. A minimal DBRT installation requires one of each component. Agents and Viewers can be added to scale DBRT for large enterprise (1000+ seats) applications.
| | |
| --- | --- |
| | Agents – installed on individual terminals or workstations in the network. They monitor individual endpoints and report back intelligence to the Server. |
| | The Server – stores information sent from Agents, as well as snapshots, skip lists, etc., in a database. |
| | The Viewer – allows IT analysts to control all the Agents on the network, interpret inbound intelligence from the Agents, and deploy remediation and inoculation solutions. The Viewer also accesses the Server and has database maintenance capabilities as well. |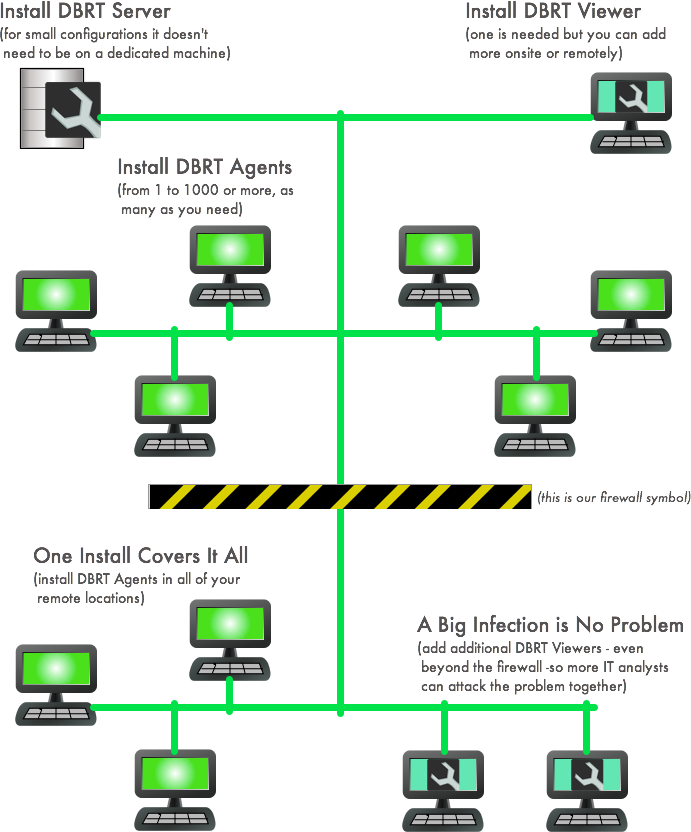 A Scalable, Enterprise Class Anti-Malware Solution
DBRT is ready to install on your network now – from a few workstations to thousands. Multiple locations are no problem for DBRT; install the DBRT Viewer and then remotely install DBRT agents throughout your network. Search for and remediate and threats remotely from one location. Should you need to add more analysts, just add Viewers — DBRT can be operated from multiple endpoints on the network.
Multi-Agent centralized solution
Real-time and historical data analysis capability
Kernel and user mode detection engine
Semi-automated detection mode with customizable parameters
Unique detection techniques only possible with DBRT
Unlimited number of agents and responder consoles
Centralized updating of all DBRT components
Extensive reporting options
User-friendly UI
Custom control all functions of the agents from the server
Offline agent analysis capabilities
Find it on one, clean it from all; apply actions to all computers with a single click
Screenshots of DBRT in Action
Running a scan on an installed DBRT Agent.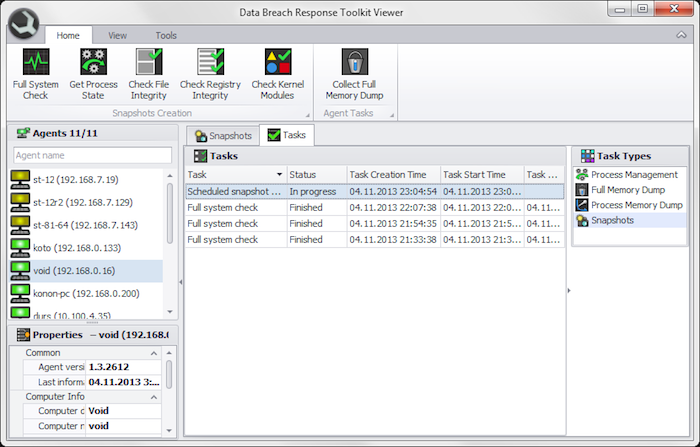 The Agent reports some suspicious activity.


The IT analyst delves deeper into the relationships on the system.


An infection is found – one that eluded all detection until now!

DBRT Trial Download
Get a 15 day trial version of DBRT. Just follow this link to the DBRT Trial Download page.